Halloween Tips for Children with Allergies and Asthma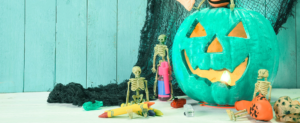 Over 40 million children in the US go trick-or-treating every Halloween, collecting nearly 2 billion dollars worth of candy. However, with the increase in food allergies and asthma in children, this night can come with some hidden ghouls to navigate.  Whether you are trick-or-treating around your neighborhood, or at a community event, take precautions to keep your child safe from allergy and asthma irritants.
Here are a few tips to prevent allergies and asthma from ruining your Halloween!
1. Carry Medications
Easily forgotten when you're headed out around your neighborhood, don't forget your child's inhaler and epinephrine auto-injectors. Your child may eat candy while trick-or-treating and prior to returning home, and there are also other potential irritants, such as smoke machines, that can trigger asthma.
2. Look for Teal Pumpkins
The Teal Pumpkin Project is a national campaign started by the Food Allergy Research & Education (FARE) in 2014. Households with a teal pumpkin signify houses that hand out allergen-free or non-food treats to children with allergies. This great program promotes safety, inclusion, and helps bring general awareness to those who manage food allergies. You can paint a pumpkin teal, or get a teal pumpkin window cling to let others know you are participating. Help spread the word in your area.
3. Give out non-candy treats
Trick-or-treating might seem synonymous with Halloween candy, but it doesn't have to be. You can hand out anything from glow bracelets and whistles to novelty toys and fun vampire fangs. Many small toys or treats can be found at a dollar store, party supply store or at an online retailer. Feel free to give both candy and non-food treats out, simply split up them up into two different bowls!
While we'd like everyone to remember children with food allergies, it might not happen that way. After a night of trick-or-treating hold a treat swap with your child. By trading out treats with allergens for allergen-free items or candy, you allow your child to take part without endangering or excluding them.
4. Read labels carefully
Sometimes the size of a candy bar does matter. Read all labels and remember smaller bars may not have all ingredients listed due to them being listed on the larger bag they came from. If the smaller candy treats have ingredients listed, they might not have all the ingredients listed due to space. Different size candy bars can be manufactured in different facilities, so even if your child normally eats it, the ingredient warnings can be different.
5. Check costumes too
Of course, candy isn't everything for Halloween; it's the fun of dressing up as your favorite princess, hero, animal or idol! When purchasing pre-made costumes, be aware of allergens like nickel or latex that can be used in the costume accessories. Planning for some bloody makeup? Beware of cheap makeup that might include preservatives that can cause allergic reactions. If you're reusing old costumes that you stored away all year, launder them in warm water to wash away any dust mites that are hanging around.
6. Don't forget air irritants
When you're out visiting a haunted house or walking around on Halloween, be aware of asthma triggers. Fog machines are fun for many but can also aggravate asthma in some. Certain machines use different types of fog that can irritate more than others. If you are renting one, properly ventilate the area to help prevent problems. While you're outside, don't forget about pollen! Mold spores can stick around in fallen leaves; after your child is done for the night make sure they change out of their costumes to prevent them from carrying pollen around the house.
Halloween is a fun and exciting time for many children, and with these tips, you can make sure it's a safe one too. If you have any questions regarding allergies or asthma, don't hesitate to schedule an appointment to talk to one of our board-certified allergists today. Happy Halloween!
https://familyallergy.com/wp-content/uploads/2015/10/TEAL-PUMPKIN-sq.png
280
468
Family Allergy
https://familyallergy.com/wp-content/uploads/2020/09/faa-logo.png
Family Allergy
2015-10-07 18:28:04
2022-08-31 15:52:29
Halloween Tips for Children with Allergies and Asthma