Allergies and Sinus Infections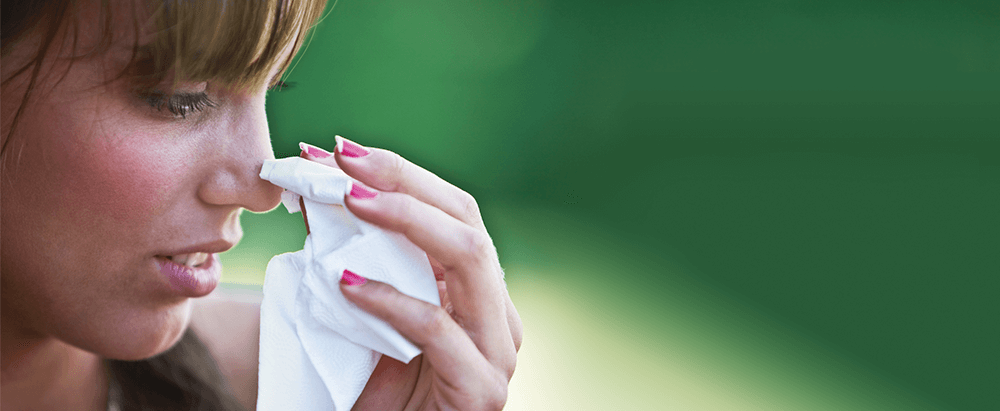 Similar to allergies, a sinus infection can interfere with your daily life and your overall quality of life. A sinus infection can be caused by bacteria, a virus, or in some cases, a fungus in your sinuses. Many people with allergies have inflamed nasal passages, leading to a sinus infection if left untreated.
Are sinus infections common?
Yes. Sinus infections are common, affecting 31 million people in the United States. There are two main forms of sinus infections, acute and chronic; either can be viral or bacterial infections. An acute sinus infection can last from 10 days to eight weeks. Chronic infection often referred to as chronic sinusitis, can last even longer and continue for months.
Symptoms of a Sinus Infection
Nasal Stuffiness
Headaches (in front of your head or around your nose)
Postnasal Drainage
Discolored Nasal Discharge
Cough
How are allergies and sinus infections related?
Both allergies and sinus infections have similar symptoms; however, itchy watery eyes are one main difference that only occurs in allergies. If you have allergies, allergens can cause your nasal passages to swell. Sinus infection also involved swelling of your nasal passages but also includes swelling of your sinuses. If allergies are causing inflammation in your nasal passages and developing a cold or other infection, then if left untreated, it can lead to a sinus infection.
Diagnosing a Sinus Infection
When you visit one of our allergist offices, our staff will take a patient history, and our providers examine your throat, nose, and sinuses. In addition to looking for polyps or changes in the anatomy of the nose, we will likely conduct skin testing to determine if allergies are causing nasal swelling. A computed tomography scan – or CT scan – of your sinuses can also tell us where your inflammation is occurring and if any structural problems exist.
What is Chronic Sinusitis?
Chronic sinusitis is an infection and/or inflammation of the sinuses that persists longer than three weeks. It can be caused by allergies or may be caused by an infection. This inflammation of the sinuses can occur suddenly or follow after a respiratory infection like a common cold.
If your sinus infection is chronic, our physicians can help identify a cause and develop an appropriate treatment plan. Treatments for chronic sinusitis may include:
Nasal steroid sprays
Saline irrigation
Antibiotics
Antihistamines/decongestants
Immunotherapy
Why see an allergist for a sinus infection?
If you get sinus infections often, then it is important to identify the cause of the inflammation. Chronic sinusitis that is not treated can cause ear and upper and lower respiratory infections. When these infections start to interfere with your enjoyment of life, then it's time to get help. An allergist is trained to identify allergy triggers that may be making your sinus infections occur more often. Our highly trained staff can help you find a solution that helps you take back control and live sinus infection-free.
Schedule an appointment at one of our local offices with a board-certified allergist to start a path to living without sinus infections.
https://familyallergy.com/wp-content/uploads/2021/01/allergy-sinus-infections-sq.png
280
468
Family Allergy
https://familyallergy.com/wp-content/uploads/2020/09/faa-logo.png
Family Allergy
2021-01-09 15:11:12
2021-04-12 10:48:06
Allergies and Sinus Infections