U.S. Senate Passes School Access to Emergency Epinephrine Act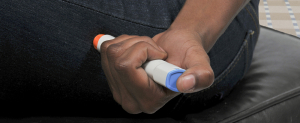 In a historic achievement for the food allergy community, the U.S. Senate today passed the School Access to Emergency Epinephrine Act (H.R. 2094), important legislation championed by Food Allergy Research & Education (FARE) that will help protect students with food allergies.
The bill, introduced by Senators Dick Durbin (D-IL) and Mark Kirk (R-IL), encourages states to adopt laws requiring schools to have on hand "stock" epinephrine auto-injectors, which is epinephrine that is not prescribed to a specific student but can be used for any student or staff member in an anaphylactic emergency. Anaphylaxis is a severe allergic reaction that is rapid in onset and can be fatal.
FARE has been working tirelessly toward the passage of this critical legislation for the last two years. The food allergy community, including FARE, has overwhelmingly supported this and similar state legislation across the country to give schools access to this life saving medication. Since the introduction of the federal bill on May 22 in the House of Representatives by Reps. Phil Roe (R-TN) and Steny Hoyer (D-MD), FARE has been working closely with the bill sponsors, meeting with legislators on Capitol Hill to build support, soliciting endorsements from other organizations and issuing action alerts to advocates across the country. These efforts helped assure passage in the House on July 30 and generated 37 cosponsors in the Senate in less than two months.
"We celebrate this milestone together with the many families who have answered the call to write to their elected representatives to urge support of this critical legislation, and we thank the Senate for recognizing that schools must be prepared to protect students with life-threatening food allergies.," said John L. Lehr, chief executive officer of FARE. "This could not have been done without the leadership of Sens. Durbin and Kirk and U.S. Reps. Roe and Hoyer. We look forward to seeing President Obama sign it into law, and to encouraging greater safety in our schools."
More than half of states have laws or guidelines in place allowing schools to stock undesignated epinephrine auto-injectors. The federal legislation would provide an incentive for states to require schools to stock epinephrine. Currently only four states – Maryland, Nebraska, Nevada and Virginia – require their schools to stock epinephrine.
In addition to FARE, the American Academy of Allergy, Asthma & Immunology, the American Academy of Emergency Medicine, the American Academy of Pediatrics and the National Association of Elementary School Principals endorsed the School Access to Emergency Epinephrine Act.
https://familyallergy.com/wp-content/uploads/2013/11/EPINEPHRINE-468x280-1.jpg
280
468
Family Allergy
https://familyallergy.com/wp-content/uploads/2020/09/faa-logo.png
Family Allergy
2013-11-01 02:01:00
2021-01-29 12:42:37
U.S. Senate Passes School Access to Emergency Epinephrine Act